In a word, yes! All shows and classes are archived.
They automatically populate both on your IntuiTalks website as well as here on our main site.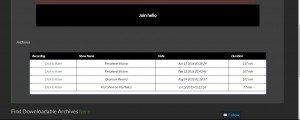 The recorded archives come in either video or audio version (depending on whether you have selected a class or radio package), and they are downloadable and shareable!
If that's not cool enough, your radio shows (classes are excluded) are distributed to: iTunes, iHeart Radio, Spreaker, Stitcher, PlayerFM, Google Play Music and YouTube, too!
You may find the latest show archives here.
To find your favorite channel (or your own channel), simply hover on the Hosts icon on any IntuiTalks page in the main menu (up top where you see all the symbols) and select which show you want to visit.
You will find ALL archives – and not just the latest on each channel's site.
What do I Need to Broadcast on this Platform? < < Previous