Unlike some other platforms, you don't need a producer or any fancy equipment to broadcast!
If that's not cool enough, there are NO downloads required for you or your listeners.
(Listeners can simply select "Listen" when entering your show room).
Basically all you need is a computer and, either a phone or a headset.
If you have a webcam, awesome! You can broadcast live and in person.
If not, just use your phone or computer headset to stream live.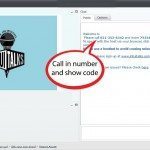 1.- You can "dial into" a show by locating the phone number and show code in your chatroom once you open your show.
2.- You can also just click the headset in the upper-left hand corner of the room to simply use your headset.
3.- Or, you can use the Skype button to call in as well.
All 3 options are also available for your listeners to call in.
How it Works < < Previous – Next > > Are the shows archived?