Listening is pretty easy, once you know what to do!
First, either go to our home page and select a show you'd like to listen to.
Or, hover over the icon located at the top of every IntuiTalks page to find LIVE shows.
(Click on any image to enlarge it)

*Please note the times in our listings, as everything is in USA/Eastern Time.
Click the show you are interested in from the list and you will be taken to that show page.
Scroll down and find the join button.

Click that button and the show "room" will start loading. Once the room is loaded, select the listen button.

You will also notice there are other options there; a phone number to simply call in (along with a show code)
and, an option to activate your microphone.
You could choose either one of those options to, for example, get a reading or speak to the host.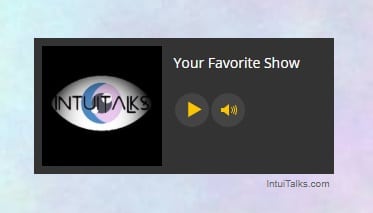 You can now also listen live without having to join the chatroom!
To do that, look on the right hand side of a host's page
and find the "listen live" play button.
For even more instructions, please see our help page.
Next > > How it Works